revolvering helices
for string orchestra (7'50") (2006)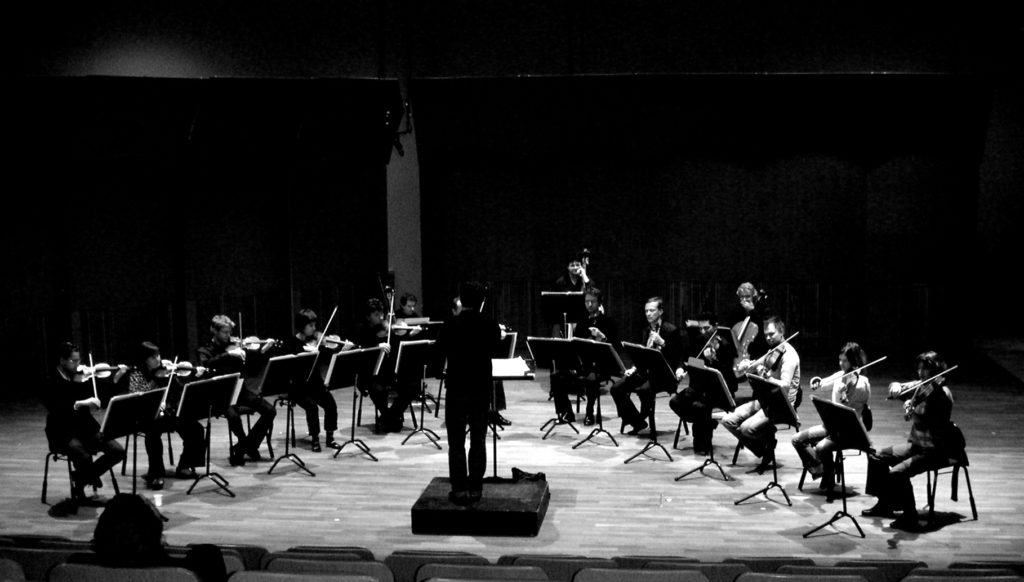 Written for Musica Vitae.
Specifications: 15; 5,4,3,2,1 (or more)
Comment:
Inspired by the solo guitar intro of the song "Revolver" (40 first seconds) by the American rock band Rage Against the Machine.
(EN):
'revolvering' in english: revolve = rotate/ turn/ move. In spanish: revolver = return/ to come back. In french: revol-ution = to take the power back). 'helix'= geometric figure in three dimensions who starts in a curve and whos tangent line sways around and makes a constant angle with the axis. Helices are seen in DNA molecules, organic fibres, ivy (hedera helix), spiral staircases etc. Helix Nebula, also called the "Eye of God", is the name of a planetary nebula from the dead star NGC 7293. Its gases and dust makes spiral formations from our vantage point.
(FR):
En anglais, to revolve veut dire effectuer une rotation, tourner, bouger. En espagnol, revolver c'est revenir, rentrer chez soi. En français le mot revol-ution désigne aussi bien la rotation que la prise du pouvoir. Le mot hélix (hélice) représente une figure géométrique en trois dimensions, celle-ci construit une courbe dont la tangente oscille en tournant autour de son axe, tout en conservant avec celui ci un angle constant. Autour de nous, de nombreux éléments s'organisent en hélices: les molécules d'ADN, les fibres organiques, le lierre (hedera helix), les escaliers en colimaçon etc… Helix Nebula, également nommée the Eye of God (l'Œil de Dieu), est une nébuleuse planétaire issue des débris de l'étoile morte NGC7293. Ses gaz et ses poussières forment des spirales au zénith de notre position.
(SW):
'revolve' på engelska: rotera/vrida/ snurra runt. 'revolver' på spanska: att komma tillbaka. 'revolution' på franska: ta tillbaka makten. 'helix': geometrisk figur och typ av spiral i tre dimensioner som utgår från en kurva och kränger runt en axel I en skruvliknande form. Helixformer förekommer bland annat I DNA-molekyler, i spiraltrappor och I organiska fibrer.
'Helix Nebula', också kallad "Eye of God" (Guds öga), är namnet på en planetarisk nebulosa från den döda stjärnan NGC 7293. Dess gaser och stjärnstoft skapar spiralformationer från vinkel vi betraktar den.
(LI):
Kūrinio "Revolvering Helices" pavadinimas nurodo kelias reikšmes. "Revolve" (anglų kalboje) reiškia "suktis", "revolver" (ispanų) – "grįžti", o "révol-ution" (prancūzų) – valdžios įgijimą. Tuo tarpu "helices" (dgs. "helix") – "spiralės" (anglų). Tai geometrinė trimatė fi gūra, kuri daro lanką ir pradeda suktis aplink savo ašį, įgydama sraigto pobūdžio formą. Pagal tokią formą išsidėsto DNR molekulės, organinės skaidulos, gebenė lipikė (hedera helix), sraigtiniai laiptai ir kt. "Sraigės ūkas" (Helix Nebula), dar vadinamas "Dievo akimi" yra planetiškasis ūkas Vandenio žvaigždyne. Toks pavadinimas jam buvo suteiktas dėl spiralinės formos dulkių pėdsakų, pasirodžiusių po žvaigždės "NGC 7293" užgesimo.
Selected performances:
Musica Vitae and conductor Michael Bartosh:
Växjö konserthus, Växjö, SE
Artisten, Göteborg, SE
P2 Live, Swedish Radio P2, SE
St Christophers chamber orchestra and conductor Donatas Katkus:
Lithuanian academy of music and theater, Vilnius, LT
St Marys Church, Druskininkai, LT