portmanteau morphemes
for string orchestra (7') (2012)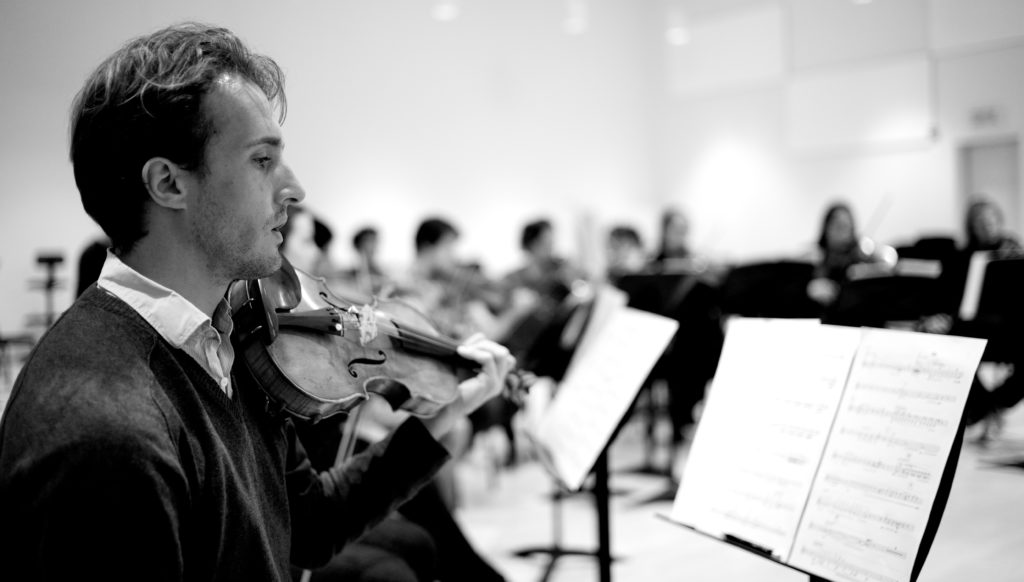 Commissioned by Ensemble Arkea (CA).
Specifications: Strings: 16; 4,4,4,3,1 (or more).
First prize winning composition of the first edition of the Codes d' Accès Acces Arkea string orchestra composition competition 2012.
Program note:
composed in a way of combining two or more "timbre morphemes" (which may or may not be freestanding "units of meaning) into "sound portmanteau morphs", which results in other, new constellations of musical gestures, directions and "meanings".
the "timbre morphemes" is based upon electroacoustic sound characters and treatments like distortion, echo/delay and acoustic feedback. the use of these electroacoustic morphemes derivers from the inspiration of some corresponding structures and characters of outer space. In particular, the planetary nebula Helix Nebula (also called "the eye of god") and the gaseous nebula double helix nebula, which both are shaped as blurry, distorted spirals. Another inspiration from space is the bem of electromagnetic radiation from rotating neutron stars, called pulsar. pulsar is also the portmanteau of pulsating star.
these ideas also tale affect on the stage placement of the musicians, which are placed in an upside-down "V"-shaped line, facing the audience, whereas the spatialization of the gestures and lines also becomes a part of the "portmanteau morphemes".
[a portmanteau is a blend of two (or more) words or morphemes into one new word. A portmanteau word typically combines both sound and meaning. More generally, it may refer to any term or phrase that combines two or more meanings. In linguistics, a portmanteau is defined as a single morph which represents two or more morphemes.
A morpheme is the smallest semantically meaningful unit in a language. A morpheme is not identical to a word, and the principal difference between the two is that a morpheme may or may not stand alone, whereas a word, by definition, is a freestanding unit of meaning. Every word comprises one or more morphemes.]
Performances:
Ensemble Arkea, conductor Dina Gilbert:
La Sala Rossa, Montréal, CA (premiere)
Église Notre-Dame-Des-Sept-Douleur, Verdun, CA
Score available at: Babelscores