champ magnétique
for saxophone quartet and tactile notifiers (14') (2015)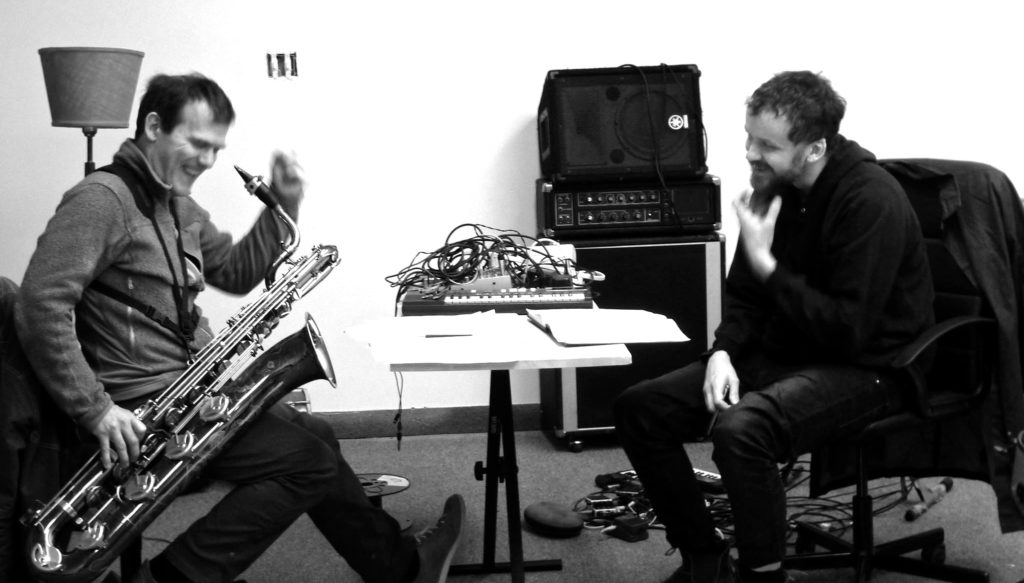 Commissioned by Quasar quatuor de saxophones (CA):
Marie-Chantal Leclair: soprano saxophone, Mathieu Leclair: alto saxophone, André Leroux: tenor saxophone, Jean-Marc Bouchard: baritone saxophone.
Sponsored by: The Centre for Interdisciplinary Research in Music Media and Technology Research Award, The Royal Swedish Academy of Music Research Funding, Stiftelsen Lars Hiertas Minne Research Funding and Svensk Musik Travel grant.
Specifications: Saxophone quartet (soprano, alto, tenor, baritone), 4 tactile notifiers, CIRMMT Live Electronic Framework (CLEF) Runtime, project files, computer, score.
Comment: 'Using haptic notifications for polyrhythmic/ metric synchronization in ensemble performance' Marlon Schumacher, Marcello Giordano and Fredrik Gran. The Centre for Interdisciplinary Research in Music Media and Technology (CIRMMT): Research Award 2014-2015: "In our previous work on vibrotactile notifications for interactive music performance (Schumacher and Giordano 2013) we developed a prototype tactile feedback system for communicating information about a computer music system to music performers using the haptic modality. The system was integrated into a software framework for live electronics ("CLEF", http://sf.net/p/clef/), allowing users to design tactile notifications about any parameter state or change in the system. We informally evaluated the effectiveness of the prototype in collaboration with a percussion performer who helped us designing different tactile cues. In continuation of this work we investigated physical and perceptual characteristics of our tactile display. Nevertheless, this research has so far been carried out in a single-user context and for specific musical situations only.
With our current CIRMMT award project, we intend to leverage our previous results and apply them in a real-world context for music creation and ensemble performance. We will collaborate with composer Fredrik Gran and the performers of the Quasar saxophone quartet, for the creation of a piece to be performed in a public concert. Composition, performance and research aspects will be considered in a holistic approach from the very beginning in order to take full advantage of the possibilities given by our haptic notification system. The compositional interest is to explore structural and rhythmic relationships of a complexity difficult or impossible to achieve without a multi-user synchronization system (Chafe, Caceres, and Gurevich, 2010). Using our haptic notification system in CLEF it is possible to transmit tactile notifications – such as temporal cues – from system to performers and in response to performer actions  — without the need of obtrusive auditory or visual displays. We will work on the design of a tactile displays embedded with vibrating actuators, whose vibrating behavior we previously investigated (Frid, Giordano, Schumacher et al., 2013), to assure coherent experience for each performer. Subsequently, we will proposes a vocabulary of "haptic notification cues" (Giordano and Wanderley, 2013), enabling users to design custom notifications. Ultimately, we will evaluate the effectiveness of our haptic cues in an iterative performer-informed evaluation process. Users will test the system in terms of robustness and flexibility, and will be actively engaged in providing us with feedback to improve the current version of the system."
– Marlon Schumacher
Program note:
L'œuvre est élaborée suivant différentes opérations basées sur une écoute immersive et une attention sur les bruits de fond. Dans un état hypnagogique (état de transition de la veille au sommeil), différents sons isolés que l'on combine peuvent faire basculer la hiérarchie de l'avant-plan et de l'arrière-plan, la signification sémantique et le champ d'attention. Dans la théorie des nombres, avec l'algorithme d'Euclide, on peut déterminer le plus grand commun diviseur de deux éléments. Dans cette pièce, l'utilisation de l'algorithme sert à déterminer les points de rencontre des différentes structures répétitives, de sorte que les plans, synchronisés ou non, se transforment entre eux graduellement.
"Fredrik Gran nous propose un monde à la frontière de l'état de sommeil et de l'état de veille. Une ouvre toute en textures dans laquelle règne une saveur d'irréel. La technologie y est omniprésente, mais se situe dans un arrière plan, voilée."
-Marie-Chantal Leclair, Directrice artistique, Quasar quatuor de saxophones
Premiered: 20150312 at Le Gesù, Centre de créativité, Montréal, CA
Links:
Vibrotactile feedback for live electronic performance
CIRMMT Award Recipients
CIRMMT Research Spotlight, Dec 2014: Using haptic notifications for polyrhytmic/ metric synchronization in ensemble performance
Live recording excerpt from Le Gesù, Montreal 20150312.

Jean-Marc Bouchard and Marie-Chantal Leclair perform excerpts from "champ magnétique" as part of the CIRMMT project "Using haptic notifications for polyrhythmic/ metric synchronization in ensemble performance" by Marlon Schumacher, Marcello Giordano and Fredrik Gran [Photo: Mailis Rodrigues].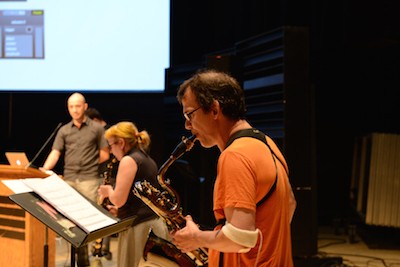 Rehearsals with Quasar Quartet and researchers Marlon Schumacher and Marcello Girodano at the "Le Gesù" venue and CIRMMT, Montreal: