residual productivity
percussion quartet and live electronics (8') (2014)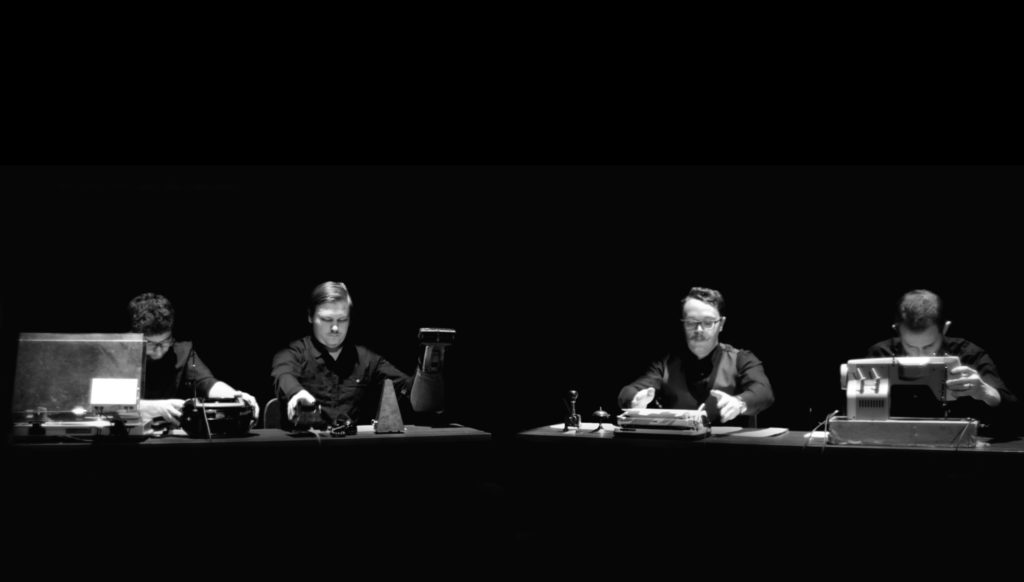 Commissioned by Architek percussion quartet (CA):
Ben Duinker, Mark Morton, Ben Reimer And Alessandro Valiante.
Sponsored by: CIRMMT (Centre for Interdisciplinary Research in Music Media and Technology).
Specifications:
Objects:
percussion 1: typewriter, stamp, reception bell percussion 2: sewing machine, egg timer, milk frother percussion 3: radio, vinyl record player, stampler percussion 4: bakelit telephone, vacuum cleaner, mechanic metronome, trigger pedal.
8 Contact microphones, mixer, monitors, laptop, max/msp software, project files, project system files, score (14 pages)
Selected performances:
live@cirmmt performance series, MMR, New Music Building, Montréal, CA (Premiere, 20140213)
Cluster music and intergrated arts festival, Ace art, Winnipeg, CA
Suoni per Il Popolo,Codes'daccés, La Sala Rossa, Montréal, CA
Comment:
Residual productivity folds together technology from different eras. the old found objects are zoomed in with the help of precisely placed and very sensitive contact microphones. these models include proffessional contact microphones, self-made contact microphones and very sensitive modified hydrophones, normally also used for terrestrial studies, leak detection and surveillance.
Residual productivity mélange les technologiesde différetes époques. d'nciens objets trouvés sont magnifiés à l'aide de micros contacts à haute sensibilité placés de façon très précise. ces microphones sont de toutes sortes; certains sont de types professionnels, d'autres sont fabriqués sur mesure et d'autres sot plutôt des hydrophones ultra-sensibles modifiés. ces derniers sont généralement utilisés pour les études géologiques, la détection de fuites ou la surveillance.
Premiere, live@cirmmt: