altered grey
for cello and electronics (9'10") (2010)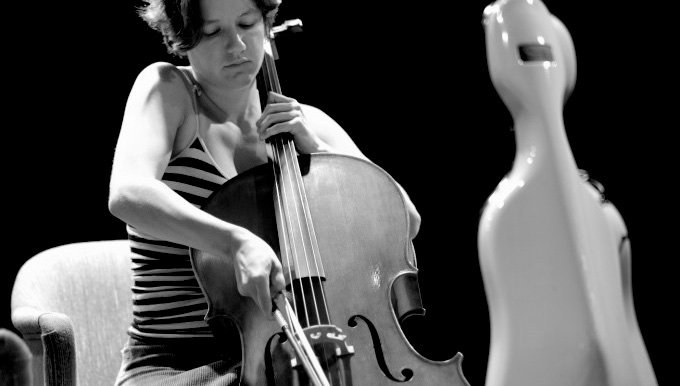 Commissioned by Émilie Girard-Charest.
program note (EN):
altered grey is the result of a sustained collaboration between cellsit Émilie Girard-Charest and composer Fredrik Gran. The work's electroacoustic score is elaborated following different operations based on sampling frequencies, unfolding speeds as well as transformations made to soundfiles themselves. Among the sonorous origins one finds a turntable, a tape recorder, the sound of an electric fence as well as cello recordings. One hears in the spoken introduction various excerpts from a text by Howard Philip Lovecraft translated in Swedish:
…grey…
…decay…
…fragile…
…small pieces…
…crack and fall off…all the while…
…body…
…could not bring…
…touch upon…
…but he looked at what had once been…
…a face…
…his friends…
…face…
…what was it…
Note de programme (FR):
altered grey est le fruit d'une collaboration soutenue entre la violoncelliste Émilie Girard-Charest et le compositeur Fredrik Gran. La partition électroacoustique de l'œuvre est élaborée suivant différentes opérations portant sur les fréquences d'échantillonnage, de vitesses de déroulement ainsi que de transformations apportées aux fichiers-sons eux-mêmes. Parmi les sources sonores se trouve une table-tournante, un enregistreur à cassette, le son d'une clôture électrique de même que des enregistrements de violoncelle. L'introduction parlée donne à entendre différents extraits d'un texte de Howard Philip Lovecraft traduits en suédois: …grey…
…decay…
…fragile…
…small pieces…
…crack and fall off…all the while…
…body…
…could not bring…
…touch upon…
…but he looked at what had once been…
…a face…
…his friends…
…face…
…what was it…
Comment:
FROM END PIN TO PEG
-Alexis Raynault, Cettevilleetrange, Chronique sul la Création Musicale Québécoise:
Altered grey, for cello and tape, evolved from the development of an anterior work called grey matters, from which it retains the same playing techniques as well as many electroacoustics elements. The result of a close collaboration between performer and composer, altered grey opens to whoever plays it a vast space of freedom, mirroring Émilie Girard-Charest's approaches as an improviser and composer. Only the regions of the instrument to be explored in the course of the work are determined, pin, peg, fingerboard, with or without the bow, while the playing on the strings intervenes only at the very end of the process, and without any specific pitch.
This concrete approach to the instruments, also found in the music of Helmut Lachenmann which was heard in that same recital, aims to liberate the instruments from bearings accumulated through centuries of repertory. One seeks to rediscover, through playing techniques that leave ample room to intuition, the initial wonderment, the primitive fascination for the created sound, where, to cite the visionary Hector Berlioz, every sounding body musically moulded by the composer is a musical instrument.
If this attitude, which one can term concrete, originates from the desire to hear sounds for themselves, distanced from their obvious structural significance, the path that Fredrik Gran has taken stems from a will to synthesize, in which fixed sounds find their correspondence in the cello playing: the human voice and the cello sounds transformed to the point of becoming heavy motives with deep frequencies, the mute percussion and the residual sounds of a vinyl disc stuck in its groove, as well as waves of white sound which constitute the electroacoustic framework of altered grey are here quoted by the instrument, itself fused to the tape due to the close-recording by two microphones. The delicate formal and sonorous equilibrium that mixed music requires is here masterfully realized, the electroacoustic score unfurled by large sequences differentiated by their rhythmic articulation: those articulations frame the cello's improvisations by signposting it with clear supports without however disturbing the hierarchy of the perceived sonorous planes.
The recourse to improvisation as well as the organisation of the tape in broad temporal sections confers upon altered grey a suppleness sometimes escaping processes used in live electronics, since the latter's relative heaviness, now audible, impedes the performer's freedom. Beyond any means, any formula, the liberated ear will find the path to surprising sonorous combinations.
————
DE LA PIQUE AUX CHEVILLES
-Alexis Raynault, cettevilleetrange, Chronique sul la Création Musicale Québécoise:
altered grey, pour violoncelle et bande, se présente comme le développement d'une œuvre antérieure intitulée grey matters dont elle conserve les techniques de jeu de même que plusieurs éléments électroacoustiques. Fruit d'une étroite collaboration entre sa présente interprète et le compositeur, altered grey ouvre à celui qui la joue un vaste espace de liberté, reflet de la pratique d'Émilie Girard-Charest comme improvisatrice et compositrice. Ne sont d'ailleurs déterminées que les régions de l'instrument à explorer au cours de l'œuvre, pique, chevilles, touche, avec ou sans archet alors que le jeu sur les cordes n'intervient qu'en toute fin de parcours et ce sans hauteur spécifiée.
Cette approche concrète des instruments, que l'on retrouvera également dans la musique de Helmut Lachenmann entendue au sein de ce même récital, vise à libérer ces derniers des références accumulées au cours de siècles de répertoire. Il s'agit alors de retrouver, par le biais de techniques de jeu faisant la part belle à l'intuition, l'émerveillement initial, la fascination primitive pour le son produit où, pour citer le visionnaire Hector Berlioz, tout corps sonore mis en musique par le compositeur est un instrument de musique.
Si cette attitude, que l'on peut dire concrète, relève du désir d'entendre les sons pour eux-mêmes, distanciés de leur signifiance structurelle obvie, la voie empruntée par Fredrik Gran répond quant à elle d'une volonté de synthèse où les sons fixés trouvent leur correspondance dans le jeu du violoncelle : la voix humaine et les sons de violoncelles transformés jusqu'à en devenir de lourds motifs de fréquences graves, la percussion sourde et les sons résiduels d'un disque vinyle coincé dans son sillon ainsi que les vagues de bruit blanc constituant la trame électroacoustique de altered grey se voient cités par l'instrument, lui-même fusionné à la bande par une captation rapprochée de deux microphones. Le délicat équilibre formel et sonore que requiert la musique mixte est ici réalisé avec habileté, la partition électroacoustique se déployant en de larges séquences que différencie leur articulation rythmique : ces articulations viennent encadrer l'improvisation du violoncelle en la balisant d'appuis clairs sans pour autant altérer la hiérarchie des plans sonores perçus.
Le recours à l'improvisation de même que l'organisation de la bande en grandes plages temporelles confère à altered grey une souplesse échappant parfois aux procédés employés par le live electronics où la relative lourdeur de ces derniers, devenue audible, entrave la liberté de l'interprète. Par-delà tout moyen, toutes formules, c'est l'oreille libérée qui saura
trouver le chemin des plus surprenantes combinaisons sonores.
Selected performances:
Orford Arts Center, Sherbrooke, CA (premiere)
L'envers, Montreal, CA
La Sala Rossa, Montreal, CA
CISM fm (radio broadcast), Montréal, CA
The Tank, New York City, US
La Société de Curiosités, Paris, FR
MuTeFest'14, Helsinki Music Centre, Helsinki, FI
La Passe, Montreal, CA
Wilder & Davis Luthiers,  Montreal, CA
Fylkingen, Stokholm, SE
Released on:
"Émilie préfère le chant" album, Ambiances Magnétiques, 2016