vox terminus
for ensemble and animated graphic score (24' or 9'30") (2015)
Commissioned by Rank ensemble (FI):
Elena Kakaliagou- french horn, Saara Rautio – harp, Solmund Nystabakk – guitar, James Andean – electronics and objects.
Sponsored by Arts promotion Centre Finland.
Comment:
'Vox Terminus' uses animated graphic score which is projected for both the audience and the performers. Each musician/group of musicians represents one of four colors of triangle shapes, who are presented through parallax effect (used as illusion of perspective in video games and computer graphics).
The graphic is visualizing polymetric patterns with structures inspired by the Euclidean algorithm.
'Vox Terminus' can be translated both as 'Border Noises' and 'Noise Limit'.
Vox Terminus använder animerat grafisk video som projiceras för både publiken och exekutörer. Varje musiker/musikergrupp representerar en av fyra färgers triangelformer, vilka är presenterade genom parallax- effekt (används vid illusion av perspektiv i bland annat tv-spel och datorgrafik).
Grafiken visualiserar polymetriska mönster vars strukturer är inspirerade av Euklides algoritm. Vox Terminus kan översättas både till "border noise" och "noise limit".
Selected performances:
Rank Ensemble (FI) (french horn, harp, guitar, electronics/objects):
MuTeFest'15, Musiikkitalo, Helsinki, FI (premiere 20151122)
Fylkingen, Stockholm, SE
Tampere Biennale, Tampere, FI
YLE National broadcast, FI
Æon Music Ensemble (US) (string quartet):
NoiseGate Festival, NYC, US
Mimitabu Ensemble (SE) (violin, cello, clarinet, percussion):
Atalante, Göteborg, SE
Tøyen Fil og Klafferi (NO) (violin, flute/bassoon, clarinet, cello):
NyMusikk, Trondheim, NO
Periferien på Sentralen, Oslo, NO
Selfoss, IS
The Freezer, Rif, IS
Mengi, Reykjavik, IS
NYU New Music Ensemble (US) (violin, viola, 2 flutes):
New York City Electroacoustic Music Festival, NYC, US
Now Ensemble (CA):
ISCM World New Music Days Festival, Vancouver, CA
NOW 40th Celebration, Roundhouse Community Centre, Vancouver, CA
Architek percussion (CA):
Salle Bourgie, Montreal Museum of Fine Arts, Montreal, CA
Excerpt from the premiere (version 1) with Rank Ensemble, MuteFest'15:
Æon Music Ensemble string quartet, NoiseGate Festival: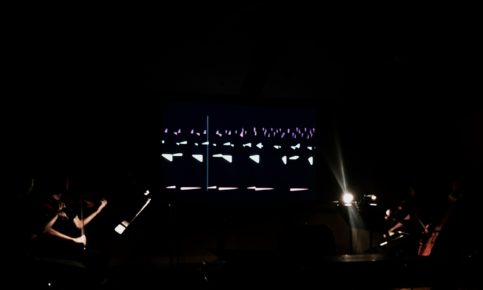 NYU New Music Ensemble, Abrons Art Center, New York City Electroacoustic Music Festival 2017: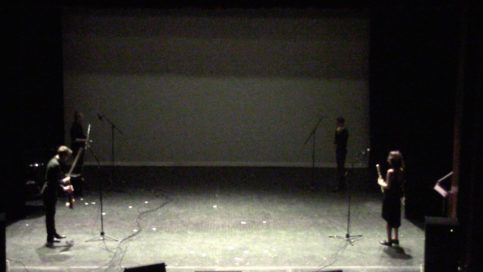 Mimitabu, Atalante: