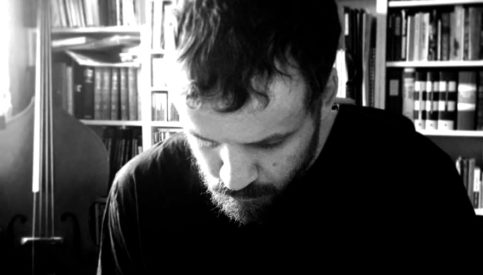 Fredrik Gran is an award-winning composer originally from the Vällingby suburb in Stockholm, Sweden. His music and research intersects electroacoustic and acoustic sound ideas, employing mechanic/robotic interactive units, amplified instruments and objects, computer-assisted transcription of his own electroacoustic music and purpose-made electronic models into the notated sphere of acoustic instruments. Fredrik's work covers orchestral, chamber, vocal, electroacoustic and live electronic music, as well as music for installations, museums, dance, digital- and visual art.
Fredrik currently resides in Montréal, Canada, where he is a doctoral candidate in composition at McGill University, under the guidance of Philippe Leroux and Sean Ferguson. His research is connected to the Center for Interdisciplinary Research in Music Media and Technology (CIRMMT). He holds a B.A. and M.A. in composition from the Royal Academy of Music in Stockholm. Earlier studies include Musicology at the University of Stockholm, and composition studies at the Academy of Music and Drama in Göteborg and at the Gotland School of Music Composition in Visby. Among his previous supervisors is William Brunson, Pär Lindgren, Ole Lützow-Holm, Pär Mårtensson, Henrik Strindberg, Marie Samuelsson and Jesper Nordin. He has attended master classes with Natasha Barret, Esa-Pekka Salonen, John Oswald, Lasse Thoresen, the Arditti Quartet and the Swedish Radio Choir.
Fredrik's compositions has been performed around the world, for example, at SICMF (Seoul), ICMC (Belfast), Tage Neue Musik (Weimar), Nordic Music Days (Copenghagen), ISCM (Vancouver), Duskomanija Festival (Vilnius), Sound Wave Festival (Brighton), Norberg festival (Norberg), Cluster Festival (Winnipeg), SOS Festival (Stockholm), NoisGate Festival (NYC), live@CIRMMT (Montreal), GAS Festival (Göteborg) and concerts in Tokyo, Oslo and Paris.
Fredrik has written music for well-renowned ensembles, orchestras and musicians, among others, the International Contemporary Ensemble, KammarensembleN, Musica Vitae, The Pearls Before Swine Experience, Ensemble Parkour, Architek percussion quartet, Rank ensemble, Ensemble Arkea, Stockholm Symphonic Wind Orchestra, the McGill Contemporary Music Ensemble , violinist George Kentros and cellist Emilie Girard- Charest.
Fredrik's music has been awarded multiple prizes, recently first prize London Music Society Composer's Competition for London City Pilharmonics for the piece 'pictures of fields without fences' (string orchestra) and first prize in Codes d'Acces's composition competition for the piece 'portmanteau morphemes' (string orchestra) as well as the nomination for the Swedish Art Music Prize (Nutida Musik) with his electroacoustic solo album 'an hour and a half' (Pink Pamphlet, NYC). In 2018 his EP with orchestral music will be released on Moderna Records (Montreal). Together with music technologists Marcello Giordano and Marlon Schumacher, the research project 'using haptic notifications for polyrhythmic/metric synchronization in ensemble performance' was one of the recipients of the CIRMMT Research Award 2014/2015, including his composition commission and world premiere of 'Champ magnétique' with the Quasar saxophone quartet.
Fredrik is a member of CIRMMT, ICMA, EMS, FST, STIM, SEAMS, Codes'daccess and Fylkingen.